Atlantis collection management
Atlantis is a fully web-based solution for collection management and the online publication of archive, museum, library, and archaeological collections.
REGISTERING AND MANAGING COLLECTIONS
Atlantis allows you to manage a wide range of collections, varying from archives and images to hand-written and printed sources, art and literature, construction files, deeds, and registers. Atlantis is a multimedia information system that links images, audio/video, and documents. With integrated media viewers, these files can be viewed and/or listened to straight away.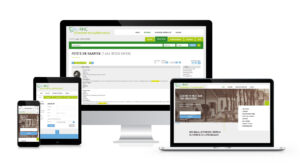 PRESENTATION OF HERITAGE COLLECTIONS
The online presentation of collections is an integral part of the solution that lets Atlantis fully integrate the search environment for the audience either within your own website or on third-party websites. Furthermore, Atlantis combines collections from third-party systems into a single, integrated whole.
Atlantis Framework
Atlantis is a fully web-based solution for collection management and the online publication of heritage collections. The heart of the Atlantis environment is created by the Atlantis framework. Plugins are used to expand the Framework with modules, services, and links.
Configuration Cockpit
Atlantis offers many options to configure the application to meet your personal requirements. With the Configuration Cockpit, the application administrator can now easily configure the Atlantis environment. The user interface was designed to offer optimal clarity and user-friendliness. This is mostly evident in the screen layout, the use of colours and fonts, icons, the use of WYSIWYG displays, well-organised tree and list displays, as well as the search and filter functions.
Overview
Features of Atlantis Collection Management
Powerful publication, search, and integration functions
Atlantis is the smart, easy solution for managing and registering collections as well as making them available to the public.
International standards
Manage all your collection data according to conventional international standards such as ISAD(G), ISAAR(CPF), ISDF, GABOS, Spectrum, or TMLO.
No user licences
The Atlantis platform does not require user licences and has no limitations on the number of collections or segments. This also makes the platform exceptionally suitable to share with multiple parties or organisations.
Unlimited support
A maintenance contract offers unlimited maintenance and support, with no restrictions on the amount of support or the number of notifications.
Links
Atlantis supports countless links and link protocols. These include API, OAI, SRU, HTTPS, as well as import/export in the form of XML, CSV, and html.
Extensible
New modules, services, and links with/to external systems make Atlantis endlessly extensible and ready to meet future needs and requirements.