We offer various solutions with our archive software for regional, regional, municipal and city archives. This page discusses our modules and services offering aimed at this target group.
Archive management system
Atlantis is a fully web-based archive management solution. The heart of the archive management system is formed by the Atlantis framework. The framework is expanded via plug-ins with modules, services and links.
Archive management system
Atlantis provides integral support for archive material: from acquisition and loss registration and inventory to placement in the depot. Via search points and hierarchical navigation systems, the information is structured and presented in conjunction. We work with the international standards such as ISAD (G), ISAAR (CPF) and ISDF.
Depot management
Depot management is part of our archive software. Depots are thus flexibly set up. For example, blocks and pieces can be placed in the depot and it is clear how much space is still available per depot, rack, cupboard or shelf. Navigation features are provided to navigate the depot overview.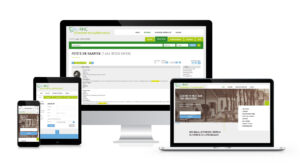 Online presentation of archives
Online presentation of your archive collection is a seamless part of our archive software solution. In this way you offer your online visitors the opportunity to navigate through archive overviews and to make searches for archives, archive components and other accessible sources.
Further accesses
We offer further access for different collection types. There are tailor-made modules for, among other things, images, printed sources, deeds and registers, building files and library collections. A module is characterized by corresponding description models, work processes and search and presentation methods.
Digital reading room
Our Atlantis public environment offers the possibility to set up a digital reading room. Thanks to services such as filing, annotations, requests and direct downloading, you can design your digital reading room completely according to your own wishes.
Crowdsourcing
Describing digital collections is a labor-intensive process. Volunteers are often used for this. Atlantis Crowdsourcing makes finding and deploying volunteers easy. For example, organizations are able to start crowdsourcing projects through a single environment, make them available to volunteers and effectively supervise these projects. Read more about Atlantis Crowdsourcing. 
Stories module
Do you want to appeal to the historical knowledge of your website visitors? Or are you looking for background information about your collection and do you want to collect it and make it available?
Use the historical knowledge of your website visitors with the help of the Atlantis Stories module. This latest addition to the Atlantis offering enables organizations to let its website visitors share stories through a combination of content and multimedia.
Link with e-depot
Atlantis offers a full cooperation with an E-Depot, regardless of the chosen E-Depot solution. Integrated and real-time files and metadata are retrieved and stored (via bi-directional ingest). With Atlantis and an E-Depot solution, this offers a fully OAIS-compliant environment. The information exchange with the E-Depot is configurable and optimized so that files from the E-Depot are only used if the use of an original file is necessary.
Overview
Features of Atlantis Archive Software
Powerful publishing, search and integration features
Atlantis simplifies the management, registration and availability of archives, inventories and further access.
International standards
Manage all your collection data according to common international standards such as ISAD (G), ISAAR (CPF), ISDF, GABOS, Spectrum or TMLO.
No user licenses
The Atlantis platform has no user licenses or restrictions on the number of collections or documents. This also makes the platform very suitable for sharing with multiple parties or organizations.
Unlimited support
Maintenance and support takes place on the basis of a maintenance contract. There are no restrictions on the amount of support or the number of reports.
Links
Atlantis supports numerous pairing and pairing protocols. Include API, OAI, SRU, HTTPS and import / export in the form of XML, CSV and HTML.
Uitbreidbaar
With new modules, services and links with / to external systems, the archive management system is infinitely expandable and ready for future wishes and needs.