ATLANTIS CONSTRUCTION FILES
Showcase your construction files with Atlantis Construction Files. With this customised module, you can manage building permit files and make them available online.
SHOWCASE CONSTRUCTION FILES
Showcase your construction files with Atlantis Construction Files. This module compiles all the digitised documents relating to permit applications, construction drawings, and relevant metadata.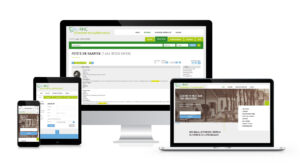 PRESENTING CONSTRUCTION FILES
By adding the construction files to the Atlantis platform, they can be published entirely, partially, or not at all via an Atlantis public user environment at the push of a button. This makes it possible for a much wider audience to investigate, consult and reproduce these files.
RESTRICTED DISCLOSURE
Atlantis Construction Files differentiates between levels of disclosure for files and descriptions. This allows for disclosure restrictions when publishing files online. An example would be the option of making metadata searchable for everyone online but keeping the digital files with relevant drawings only accessible to authorised users.
INCREASE THE VISIBILITY OF CONSTRUCTION FILES
www.MijnAdres.org is a Dutch national portal that makes files with their respective construction drawings available online. The portal is used by private citizens as well as real estate agents, notaries, and municipal bodies. The portal features a clean, contemporary design and can be used on a computer, tablet, or smartphone. By linking Atlantis Construction Files and MijnAdres, you increase the visibility and findability of your construction files.
OVERVIEW
Features of Atlantis Construction Files
Powerful administration, search, and publication functions
Atlantis Construction Files is a smart, easy solution for managing and registering collections as well as making them available to the public.
Direct downloads or browse requests
To offer visitors the best services, Atlantis offers efficient additions and extensions for different types of online requests.
Metadata model
The Construction Files module includes a standardised metadata model for describing construction files. Organisations can also request specific adjustments to create a customised metadata model.
also in combination with third-party systems
The construction files are managed via the Atlantis administration environment or by linking an external administration system with the Atlantis public environment. Our public environment enhances the findability of construction files and offers smart functions to visitors.
Disclosure to third parties
As Atlantis supports many link protocols, files can be labelled as selectively accessible by third-party systems. This can, for instance, be done by (Linked) Open Data, OAI-PMH, API, and SRU.
Google Search
With Google Search, construction files are offered to Google for indexation. Google search queries show files as a search result so users can click on the link that directs them straight to your environment.